NATUR-EVO FOR EVOLVING
Evolving with you at every stage of your life!
Bonneville Homes will be unveiling this year the latest addition to their popular Natur Series, the Natur-Evo. You will be impressed by the new innovative concept of this model. The house has been designed to evolve according to the needs of its occupants at every stage of their life. How? By being built to receive additional modules for future needs already integrated from the get go! Whether it's a garage, a second floor, a basement or even an in-law suite, you will be able to adapt your first purchase at all stages of your life!

The Natur-Evo offers a cozy, contemporary 1008 square-foot interior, with the option to expand later. The creators of this home have spared no effort in optimizing its form and functionality! For those who dream of building their lives in a unique home, the Natur-Evo is the perfect fit for you!

Come visit the Natur-Evo at booth 1165!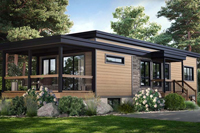 Micro-Housing signed by Confort Design
Treat yourself with ingenuity and peace of mind with the Micro-Housing concept of Confort Design!
Our charming 16x46F micro-housing has bright and welcoming living space. Its area of 721 sq. ft. is composed of a large master bedroom able to fit a King size mattress, an open kitchen with pantry, dining room and living room, a large bathroom and even a corner for the washer and dryer. In addition, this tiny modular house gets larger in the summer thanks to its superb 145 sq. ft. terrace.

Maisons Confort Design is a manufacturer of high-end, manufactured homes and micro-homes based in Mascouche. The manufacture of these houses is done in a high-tech environment protected from the weather and ensures a quality much higher than that built on a construction site. Confort Design is able to respond to market demands and help customers achieve a personalized home that meets both their lifestyle and their budget needs. The acquisition of a micro house ensures you with unparalleled peace of mind!

Come visit the 16x46F micro-housing at booth 834!