The CULINARY EXPERIENCE
Come visit the beautiful kitchen designed and created by JC Perreault!

The JC Perreault kitchen will give you inspiration and new ideas. Not only will you discover the Signature Kitchen Suite, where Chef Chuck Hughes and Bob le Chef will prepare some of their favourite recipes, you will also learn all about "sous vide cooking". Come see what all the talk is about!


Click here for the presentation schedule.
---
CHUCK HUGHES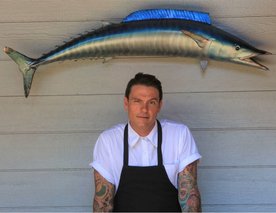 Chuck Hughes is the co-owner and executive chef of Montreal hot-spots, Garde Manger and Le Bremner. He is the talented star of such television shows as Chuck's Day Off, Chuck's Week Off, Chuck's Eat The Street, A couteaux tires, Chuck & Danny's Road Trip and Le Monde Selon Chuck. He has also produced two best-selling cook books, "Garde Manger" and "Chuck's Day Off".

Some of the other highlights of Chuck's celebrity cooking career include; becoming the youngest Canadian chef to win on Iron Chef America; starring with nine other celebrity chefs on The Next Iron Chef: Super Chefs and joining an all-star panel of judges on Chopped Canada.

Two years ago, he launched a line of highly anticipated food products. My Kitchen Staples are delicious essential items such as vinegars, antipastos, spreads and sauces that Chuck uses in both his restaurants and at home. All the staples are made by people he knows, trusts and gives credit for their quality.

This September Chuck will be joining Anne-Marie Withenshaw in a new series titled L'atelier culinaire. He is also filming a new television series in English which will be broadcasted in Fall 2020.
www.chuckhughes.ca
---
BOB LE CHEF
Vive la cuisine libre !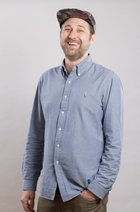 Since 2005, Robert James Penny, aka Bob le Chef, is taking the interwebs by storm with his Culinary Anarchy. His goal: to introduce young adults and teenagers to the culinary arts. With his humorous and goofy style, sometimes irreverent, but never pretentious, he publishes on his blog (boblechef.com) simple and economic recipes in the form of video clips, as well as unusual news related to cooking in all it's forms.
A graduate of the Institut de Tourisme et d'Hôtellerie du Québec, he worked in several renowned institutions in Montreal (Le Globe, Italasia, Le Méditerranéo, La Brunoise, Le Misto). Bob le Chef has published three cookbooks with les editions La Presse (L'Anarchie Culinaire selon Bob le Chef in 2008, L'Anarchie Culinaire selon Bob le Chef - La Revanche in 2010 & L'Anarchie Culinaire selon Bob le Chef - La Faim du Monde in 2012) and participates in numerous radio and television shows (Marina - Radio-Canada, Médium Large - Radio-Canada, Dessine-moi un été - Radio-Canada, and more...) as a guest columnist.
Since 2018 and back again for a second season this summer, accompanied by Hugo Girard he co-hosts "
Fous du BBQ
" on the CasaTV channel. Bob also hosted the cooking show "
Pas de panique, on cuisine!
" presented on AMI-TV for 3 seasons.
Every Sunday afternoon, live from Montreal , Bob le Chef cooks in company of his guests, but also with the public, through a new interactive project entitled
Bob le Chef LIVE
, broadcasted on
Youtube
and
Twitch
.