Dates & Hours
Thursday, October 21 12:00 pm - 8:00 pm
Friday, October 22 10:00 am - 8:00 pm
Saturday, October 23 10:00 am - 8:00 pm
Sunday, October 24 10:00 am - 5:00 pm
Admission Rates
Adults
Adults - online
Seniors (60+) and students
Children from 6 to 12 years old
Children 5 years old and under
Reduced mobility

$16
$14
$13
$6.50
Free
$13

Discounts are only applicable on the value of a regular ticket: $16
Show Location
Olympic Stadium
4141 Pierre-de Coubertin Ave
Montreal, QC
H1V 3N7
www.parcolympique.qc.ca
(514) 252-4141


DIRECTIONS
By Subway
The Stadium is accessible via an indoor corridor from the Pie-IX subway station. For more information, visit: www.parcolympique.gc.ca
PARKING
We invite all drivers to park at the P1, P2 and P4 parking lots. The P8 parking lot located at the corner of Bennett and Pierre-de-Coubertin is reserved for trucks only. We thank you for your collaboration! There are around 4,000 indoor parking spaces and 270 outdoor spaces available during the event. A fee of $20 (tax included) per day is charged for the indoor spaces. P1 and P2 are accessible from rue Pierre-de-Coubertin.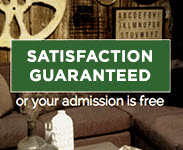 We're so sure you'll love your day out at the Montreal Fall HomeExpo that we'll refund your admission if you're not satisfied!

Any attendee not completely satisfied must visit the on-site Show Office while at the event to receive a refund request survey. The value refunded will be per your receipt and mailed to you after the show (within 30 days).